Storing Fuel? Add STA-BIL Fuel Stabiliser – keeps it fresh for up to twelve months!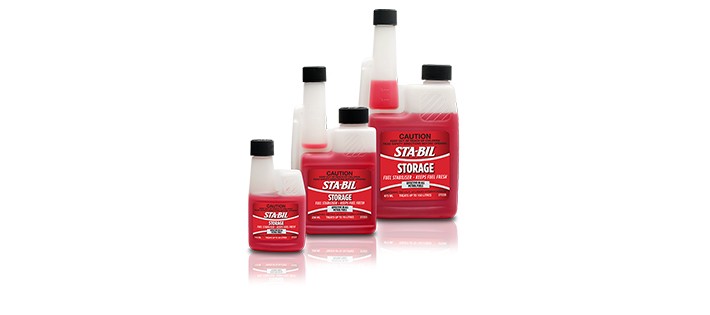 Any vehicle or petrol powered equipment, like generators you use infrequently is at risk from stale fuel. Even fuel stored in jerry cans needs to ensure it stays fresh. Use STA-BIL Fuel Stabiliser to ensure that your equipment starts first time, every time.
Petrol begins to deteriorate after a little more than one month. Running contaminated petrol through an engine can result in difficult starting and reduced performance at best. At worst, you could be looking at a very expensive repair bill.
STA-BIL keeps fuel fresh for up to 12 months or more and stops the formulation of gum and varnish in fuel system components.
What Happens to Fuel When it is Stored?
Any fuel, be it petrol, diesel, or heating fuel, is made up of many different organic compounds. These organic compounds are constantly changing over time becoming new compounds that change the characteristics of fuel.
The same molecules that make up the best parts of petrol can react with oxygen and other elements in the environment and form new molecules that build up to form gummy residues or varnish-like films that can clog up passages in fuel lines, carburetors, and injectors.
Some fuels are treated with oxidation inhibitors to allow them to be stored for up to 3 months without generating excessive deposits. Other fuels have no inhibitors at all. In any case, storage of equipment requires some special consideration for the fuel system.
For further information go to: http://www.sta-bil.com.au/
or call 1300 MYTRICO (1300 698 742)
Click here to find out where to buy STA-BIL
Available at: Autobarn, Autopro, SuperCheap Auto, Repco, Burson Autoparts and other specialist retailers.
Distributed in Australia by:
Trico Products Pty Ltd, Unit 1/80 Fairbank Road, Clayton South, Vic 3169